What is the All Mesh Bubble Bag?
All mesh bubble bags are the most efficient and durable ice water extraction bags.
It is mainly used for ice water bubble Hash, Ice Kief & chemical solvent extraction.
The sidewalls and bottom of the extraction bags are made of white polyester mesh fabric.
All mesh filter bags use 200D bezel strips and 100% nylon sutures for three-layer stitching to increase strength.
All mesh hash bags are durable can be used repeatedly more than 120 times.
Through the filter bags with different microns in the all mesh bubble bag kit, you can effectively filter all kinds of impurities outside the main body of the extract and easily get the purest hash.
What's the Material of All Mesh Bubble bags?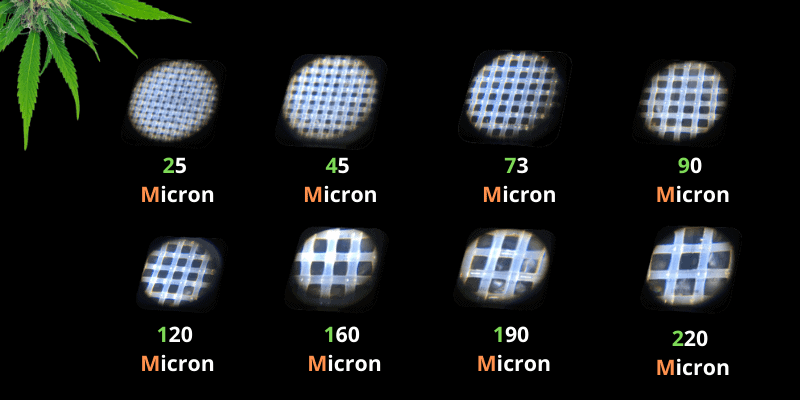 The material of all mesh bubble bags is enhanced all mesh mono-filament screen. 
This material withstands a low temperature of-35 degrees Celsius and a high temperature of 145 degrees Celsius, so it can easily meet the needs of various extraction and filtration.
All materials are pigment-free and bleach-free, which can protect the purity of bubble hash to the greatest extent. Note that mesh screen for different micron has different technical specifications:
Micron
Material
Mesh Count
(mesh/inch)
Aperture
(um)
Thread Diameter
(um)
220 Micron Blue bag
32T
81
220
100
190 Micron Green bag
36T
92
190
90
160 Micron Red bag
43T
110
160
80
120 Micron Orange bag
54T
140
120
64
90 Micron Black bag
61T
155
90
64
73 Micron Yellow  bag
80T
200
73
48
45 Micron white bag
100T
255
45
40
25 Micron Purple bag
140T
355
25
34
What is the size of All Mesh Bubble Bags?
Different extraction scenarios require different sizes of all mesh bubble bags to operate, so it is necessary to provide different sizes of filter bags for selection:
1 Gallon All mesh bubble bag: D1=7in D2=8.3in H=10.5in
5 Gallon All mesh bubble bag: D1=11.8in D2=12.5in H=16.5in
10 Gallon All mesh bubble bag: D1=11.8in D2=13.7in H=21.2in
20 Gallon All mesh bubble bag: D1=17in D2=21in H=29.5in
32 Gallon All mesh bubble bag: D1=18.3in D2=22.5in H=28.5in
55 Gallon All mesh bubble bag: D1=15.5in D2=22.8in H=37.4in
What are the advantages of All mesh Bubble bags?
Compared to 600D nylon bags with mesh on the bottom, the all mesh bubble hash bag has higher efficiency, which allows water to quickly seep through all sides as well as the rounded bottom of the bag.
This design greatly reduces the drainage time and accelerates the completion of the entire filtration process.
All mesh bubble bags are made of food-grade monofilament filter mesh and sewn with thickened nylon thread to greatly increase strength.
All mesh bags have two sets of identification criteria.
One set of identification is by color, all bags are sewn with different colors on the edges so that customers can easily identify the micron rating of the bags by color.
Another way of identification is through the micron markings sewn on the bag opening, which are marked for each bag: 20um, 190um, 160um, 110um, 90um, 73um, 45um, 25um
We also added a nylon drawstring and positioning buckle to ensure that all mesh bubble bags are the perfect extraction tool for different containers and different shaking frequencies.
How to find a all-mesh bubble bags manufacturer?
Unitgrow is a professional all mesh bubble bag manufacturer and supplier with 7 years of experience.
We can provide OEM/ODM customization service for all mesh filter bags for you.
About the quality of the products, we can do pre-production trial samples to ensure that each of your orders is guaranteed by the quality according to the steps, feel free to contact us, we provide a free sample customization service.
Unitgrow is a Maersk contracted customer, we can do booking operations to ensure our customers receive our all mesh extraction bags quickly with low-cost shipping.
You are welcome to visit our factory at any time, we also support google meeting and zoom online factory inspections.
How to check the quality of All Mesh Bubble Bags?
Quality inspection of all mesh filter bags is very necessary, a set of bags that are worn or broken is of very low practical use.
In the first step, we need to check the mesh screen surface of all mesh bubble bags, must be all intact, without any wear and tear.
In the second step, we need to check all the sewing joints to ensure that every sewing position is sewn together.
In the third step, we need to check if there are a large number of neat pinholes, if there are, it means that the supplier has used old material, which is prohibited behavior.
The fourth step is to check the carry bag of all mesh bubble bags, whether the fabric is worn and whether the seams are sewn together is the key.
The fifth step, check the packaging carton, all the cartons must be new, no bubble water, bubble water carton is very brittle, in the process of transportation will certainly break.
Quality testing has always been a headache for multinational procurement.
For this reason, Unitgrow offers online video inspection and loading of goods to make our customers worry-free.
We will inform our customers and record the video during all stages of production, product inspection, product packaging, product crating, and cargo loading to ensure our customers can keep track of the quality and delivery schedule.